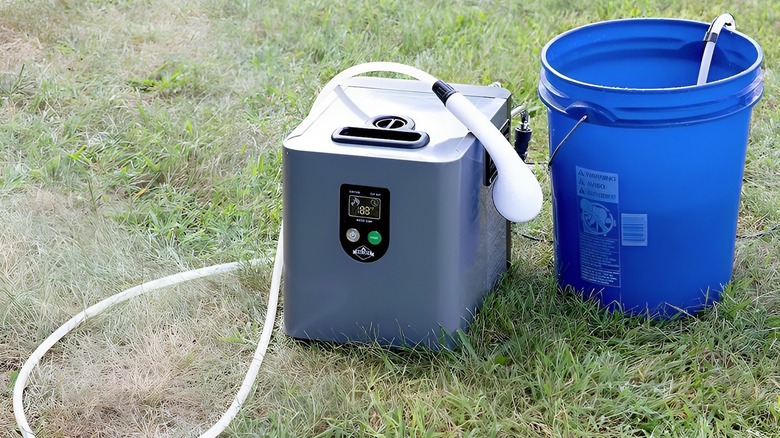 We may receive a commission on purchases made from links.
Camping is all about disconnecting from the hustle and bustle of daily life and immersing yourself in nature, but it also involves having to forego the comforts of home for a few days, such as running water and hot showers. Unless you're staying at a campground that has communal showers, you'll either need to be content with holding off on a bath for a few days or discreetly bathing outdoors.
If you can't do without a hot shower while camping, you can buy a solar shower bag. These bags can be left in the sun for a couple of hours to heat the water inside and then hung up on a tree branch to function like an overhead shower. Shower bags come with a shower head and a capacity of about five gallons, but take a while to heat up.
For a more effective solution, you can invest in a high-tech camping accessory like a portable water heater. Like camp stoves, these water heaters are powered by a propane tank, giving you hot water in minutes. However, they also require a power source for the pump to function. A quick search on Amazon will reveal several options, with the Hike Crew portable water heater being a popular product, with four stars and over 1,000 user ratings and reviews.
Upgrade your camping trip with hot showers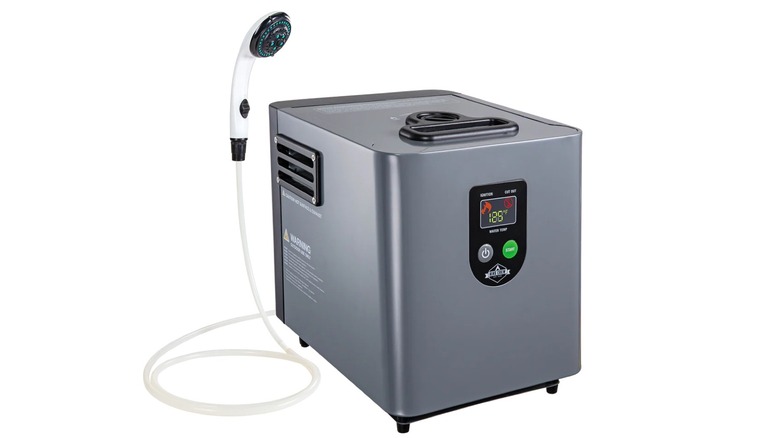 The Hike Crew Portable Propane Water Heater & Shower Pump doesn't come cheap at its asking price of $249 on Amazon, but it's a worthwhile investment if you frequently go camping. The portable heater comes with a pump that can be placed in any water source, such as a bucket, river, or stream. This water is then passed through a propane-powered heating coil and released through either the built-in faucet or shower head.
As a result, you can use the Hike Crew water heater to wash your hands, do the dishes, or enjoy a hot shower outdoors. The shower hose features three different spray patterns that can be adjusted by turning the dial, although low water pressure seems to be a common complaint. Several users also mentioned that the quick connect for the hose tend to leak.
The Hike Crew water heater has a temperature control knob and an LCD screen that displays the water temperature. You can plug it into a power source (12V) like a portable power station/generator, RV outlet, or your car's cigarette lighter. The water warms up almost instantly and can get scalding hot. In addition, it doesn't use much propane, with one user review claiming almost two weeks' worth of usage with a single tank. 
Hike Crew provides all the required accessories in the box, including the power adapters, a gas regulator, a pump hose, a shower head, and a carrying bag that fits the water heater and all the included accessories.