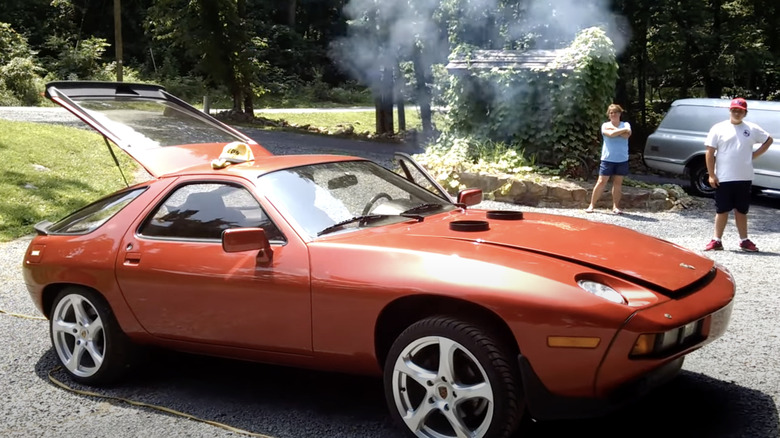 Engine swaps are very common among automotive do-it-yourselfers, but most shade tree mechanics keep to tried and true upgrades like Chevy LS swaps or gas-to-diesel engine conversions. There are certainly plenty of examples of bold and outlandish engine swaps, but one Porsche owner took this concept to the extreme boundaries of engineering and imagination with their engine swap.
A thread on the r/AwesomeCarMods subreddit highlighted a 1982 Porsche 928 that had its 4.5 liter V8 swapped out for a Boeing T50 jet engine, complete with turbine in front and twin exhausts poking through the hood. The engine can be heard running in a short YouTube video below that shows the red 928 (with a hood that can't quite be closed completely) idling quite loudly while a couple of very curious spectators stand just a few steps away.
The conversion was done by an Oregon man who listed the 365-horsepower beast on eBay in 2010 for $20,000. The seller claimed the car was capable of speeds in excess of 160 mph, would deliver 17 mpg, and could run on diesel fuel. The car eventually sold for $12,000. 
Medical bills forced the original owner to sell
In a post on rennlist, the seller, identified as Daniel5691, said that medical bills were forcing him to part with their unique creation. Daniel said that the car ran and drove, something that was proven by another YouTube video dated 14 years ago. That video included a comment from a user named Scott Hammons, who claimed he still owned the 928 as of a year ago.
Keeping the car ran counter to the advice Daniel gave in his rennlist post, which was to flip the car and pocket the proceeds. "I recommend fixing it up a little," he wrote, "as you could potentially make a substantial profit!" He went on to add some details about the build, including the fact that the jet engine weighed less than the factory V8. He explained that the jet's turbine drove a gear reducer/reverser that, in turn, drove the input shaft of the 928's transmission, in effect acting like the torque converter on an automatic transmission. 
He added digital gauges for exhaust gas temperature, oil pressure, and oil temperature, although the latter two were not working properly at the time of sale. The car did have a working fuel gauge and speedometer, although the tachometer required some on-the-fly mental math to be useful.